Twelve 30 day challenges were launched by Professor Jane Cummings, Chief Nursing Officer for England on 14th May 2018 as part of the Transforming Perceptions of Nursing and Midwifery campaign. Please get involved on this platform.
The story so far…
More than 250 ideas, stories and suggestions were submitted to this platform by a diverse group of people. By working with nurses, midwives, Ambassadors and decision makers, these ideas have been mapped into 10 Building Blocks that will aid the development of positive perceptions of nursing and midwifery.

An exciting opportunity for you to transform the perceptions of nursing and midwifery!
The opportunities offered by a career in nursing and midwifery have never been better, with roles ranging from the essential day to day caring responsibilities – to the highly technical, research, executive leadership – and many, many more.
Through this campaign, we want young people to know about the exciting breadth of careers available; we want teachers to promote nursing and midwifery as career of choice, we want nurses and midwives to reignite their pride in the professions, and we want system leaders and decision makers to make sure nursing and midwifery expertise is at the heart of shaping future healthcare policy.
Now it's over to you:
We would like you to come onto the platform and take part in our 30 day challenges where we have taken these ideas and stories to address and action the key themes in order to transform perceptions of Nursing and Midwifery. Take part in suggesting your ideas and sharing your experiences in these challenges here.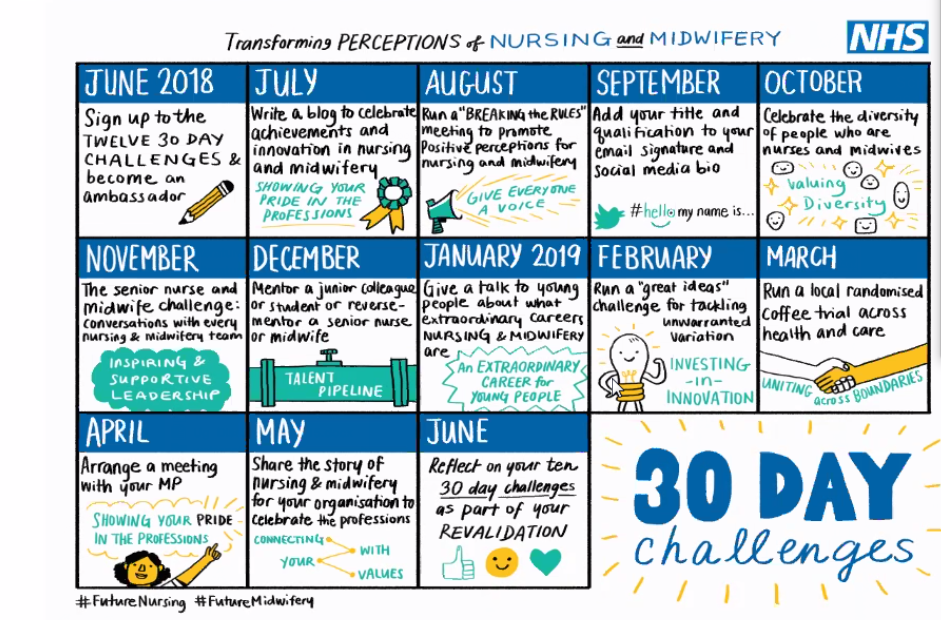 .